Gotta love Georgia weather! Last weekend we were sledding and building snowmen, and this weekend we were at the park in short sleeves!
We decided to go take advantage of the gorgeous weather we are having, and go to the park. Apparently the entire state of Georgia had the same idea, because the biggest park around was so crowded they had police officers directing traffic.
We were meeting
JaMonkey
at the park, so I quickly called her and we made a change of plans. We ended up at a park close to our houses, that was not too crowded. Little Man had SO much fun running around with JaMonkey. They swung, wend down the slide, even had a little picnic with golfdfish and juice.
After they were done with the playground, we decided to take them for a walk on the trail that was there. JaMonkey had a doll stroller, and Little Man wanted to help her push her stroller.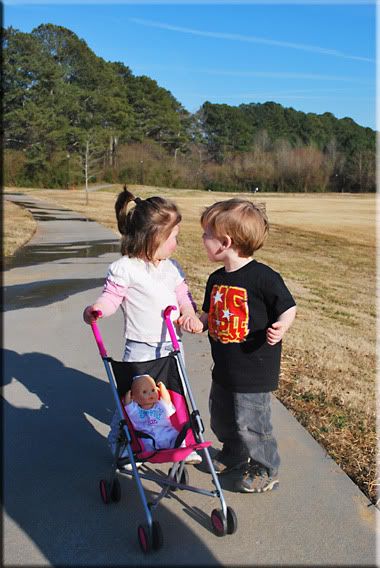 It was super cute watching them walking, hand in hand, pushing a baby stroller.
The only thing we didn't see was the GIANT puddle of mud that Little Man stepped into, then as he was trying to get his foot out, he fell into it.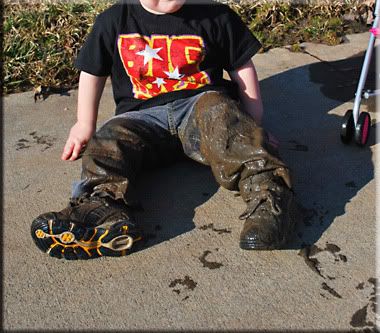 Now, if you know anything about Stephen, you know he does not like to get dirty. Little Man must have gotten this from Daddy, because as soon as he fell, he started crying big crocodile tears! Poor thing.
I stripped him down to his diaper and t-shirt, and we headed for the car.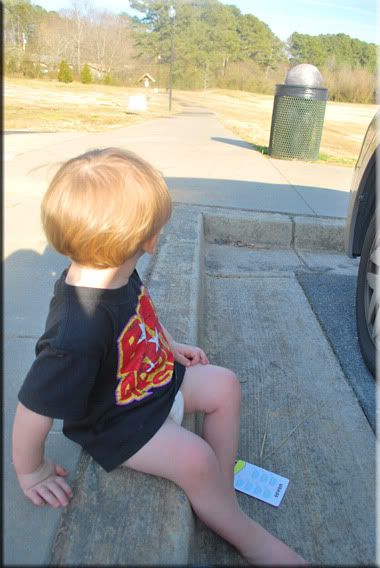 Park time was done! We headed home where I tossed his muddy clothes into the washer, and JaMonkey met us at our house to continue playing with Little Man. Maybe one of these days I will get Little Man to like to play in the dirt!