We have a new "baby" in our house.

He's 3 years old, 75 pounds and jet black.

His name was Aristides and he was living at the Jefferson County Kennel Club track in Monticello, Florida before he came to us thru Southeastern Greyhound Adoption.

That's right.

Our new "baby" is a retired racing greyhound.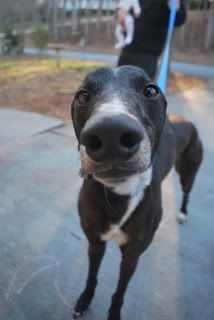 He had an impressive racing career with 106 races. Winning 14 of those and placing second in 15 of those. His entire pedigree is interesting to look at.

He even has a video of him racing. He is in 1st, then 2nd in this video, until he gets bumped in a corner and ends up losing the race.

Why a greyhound you ask?

Greyhounds are sprinters, so they do not NEED a lot of exercise. About 10 minutes a day is all they require. They are used to laying around all day in the kennel and are content to do so in the house also. They are loving, loyal and great companions. They come to your home crate trained so they are easy to house train.

We never would have considered this breed until we met them at our local farmers market in the summer of 2010. We started seriously considering getting a dog in September of 2010, but then found out we were expecting Little Miss in December of 2010, so it got put on hold.

We contacted the adoption group a few weeks ago and they set out to find a greyhound to fit our family. One that does well with small children and a cat. They called us and let us know they had two that they think would work great for us, so I went with the kids (and a good friend of mine) to look at them.

We picked Aristides because he was playful, loving and didn't even flinch when Little Miracle started to throw a massive meltdown fit when we were with him.

Ari (as we are calling him. We decided to keep a little bit of his past with his name) came home on Sunday night. He fit right into our house and routine. He loves laying around and does not mind the kids playing near him while he sleeps. He still spends a good amount of time in his crate during the day (when they were racing, they would spend 22 hours a day in a crate, its their security blanket) but he will eventually have free range of the house.

We are all excited to add this new "baby" to our ever growing house.