This week was fun!

Saturday we went to the fair. Little Man and Little Miracle had SO much fun riding the rides and at the petting zoo. Little Man got to feed a cow and thought that was the coolest thing in the world. Little Miss slept thru the fair.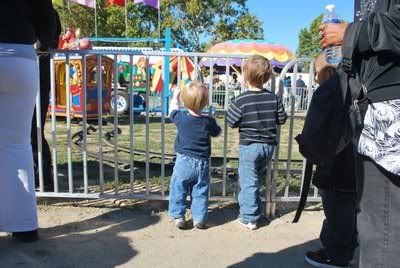 Sunday our church had a tailgaiting party. Lots of food and fun. Little Man loved the bounce house the most! I liked the chili cook-off! Lots of different kinds of chili to eat.

Monday my mom came and hung out with us all day. I love when my mom comes over. It's very helpful to a stay at home mom to have some adult conversation during the day! Out new next door neighbors got a new fridge and we stole the box. We made it into a fort and then had the boys paint it. It takes up a massive amount of space in my living room, but the boys are still playing in it tonight!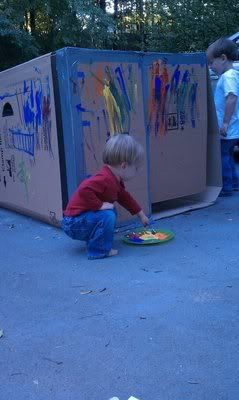 Wednesday Little Man got his second patch at AWANA. He got the first one last week for completing so many pages in his workbook and memorizing so many verses. I am so proud of my Little Man. He learns his verse every week and proudly says it to his teacher when he gets to his class room. At 3, he is not required to say the address of through verse but I make him learn it also. This week his patch was for attendance. He has not missed a week yet!

Wednesday Little Miss wore her first tu-tu. It was adorable!

Yesterday was a play day. We went to Catch Air and played for hours. The boys love that place. Little Miracle loved going down the huge slide in my lap.

Today we went to the park while Little Man was at school. Then we went to the bookstore with daddy and played with Thomas the Train. Tonight we spent time learning to ride his bike and then we walked to the neighborhood playground and had a picnic. We talked to our new neighbors and some old ones on the way back.

Tomorrow kicks off a new week for my week in review, and next week is going to be epic!