If you know me, you know I am NOT a gift person. I hate buying gifts, I hate receiving gifts. That said, Stephen was trying to take me to the jewelry store for mothers day. I told him that this year, I wanted something that was free. I told him to make me something.

He came home from work with this today.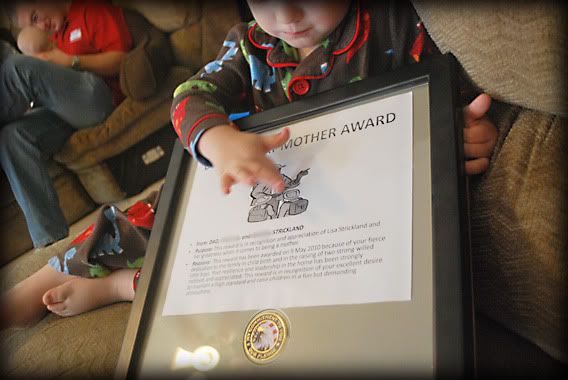 I think he did good!


"Damn Great Mother Award.

From: Dad, Little Man and Little Miracle Strickland

Purpose: This reward is in recognition and appreciation of Lisa Strickland and her greatness when it comes to being a mother.

Reasons: This reward has been awarded on 9 May 2010 because of your fierce dedication to the family in child birth and in the raising of two strong willed little boys. Your resilience and leadership in the home has been strongly noticed, and appreciated. This reward is in recognition of your excellent desire to maintain a high standard and raise children in a fun but demanding atmosphere."