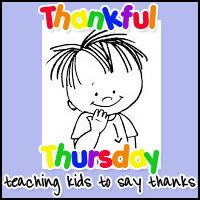 I had EVERY intention of doing Thankful Thursday on time this week!! We made this card on Monday, and I just forgot to post! So here it is!

Little Miracle had a well check this week, and Little Man was sick a few weeks back, so we have been seeing a lot of our pediatrician lately. We decided to say Thank You to him for keeping Little Miracle well, and for making Little Man feel better when he is sick.

We have THE BEST pediatrician. He doesn't question my decisions to delay some vaccines, he actually has his own schedule of ones he thinks are important, and we talked it over and decided on the best schedule for my kids! He doesn't push solids early, doesn't push formula (I have NEVER been offered formula with this pediatrician, Little Mans pediatrician offered me formula at EVERY appointment..."It would be so much easier to just give him formula" when I was having problems nursing... but that is another post for another day!), and actually supports extended rear-facing. They are great at not pushing antibiotics unless they are truly needed and basically just lets the parent be the parent! I love them.

The main doctor we see there goes out of his way to make both kids feel welcome. It was an appointment for Little Miracle, but he read a book to Little Man when he came in. He always has stickers or little toys to make the kids feel better, and the waiting room has trains EVERYWHERE (even one that goes around the ceiling). Needless to say, Little Man never wants to leave!




Little Miracle even helped!




Our pediatrician was very grateful for the card. Little Man basically threw it at him, but he caught it, and talked to Little Man about his card for a few minutes. He was impressed at Little Mans artwork.

Are you teaching your kids to say Thank You?