We had some nasty weather today here. I was awoken at 5:30 am to thunderstorms. Little Miracle was awake too, so I rocked him back to sleep. I managed to get back to sleep only to have the kids up a few hours later. I kicked Stephen out of bed, and slept till 10:30! That was very nice!

After I got out of bed, I made breakfast/lunch for the family. Then we did one of my favorite past times as a kid. We built a blanket fort. Ya know, pull all the chairs out of the dining room, pull all the extra sheets you have out, and make a tent!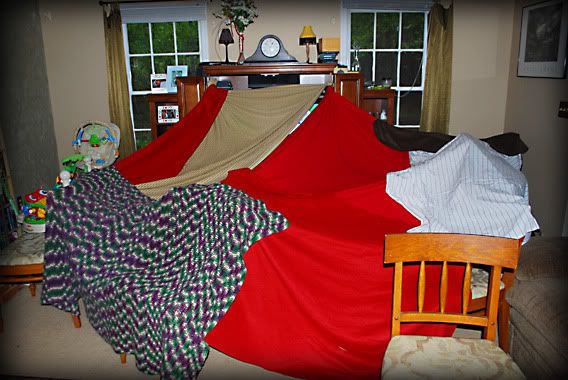 We tied it around the TV so we could watch the weather and some movies. We watched a bunch of Veggie Tales. Little Man loves his "Bob and Larry"




I wanted Little Man to nap in his fort, but he would not settle down, so I had to take him to his room to nap. He was NOT happy about that, but he did take a short nap.

After naps, we made some cookies and lounged around in our fort. Little Man loved sitting in it! We read many books, played with blocks, and watched movies. We even ate dinner in the fort.

After dinner, I checked the weather and saw the heavy stuff was still kinda far out. Little Man had been in his rain boots all day (this kid finds them in the morning, and puts them on, regardless if we are going anywhere or not) so I decided to go puddle jumping. We LOVE puddle jumping!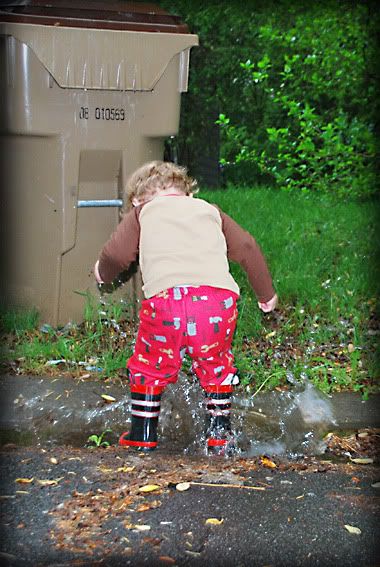 I even pulled out my rain boots and jumped in a few puddles myself.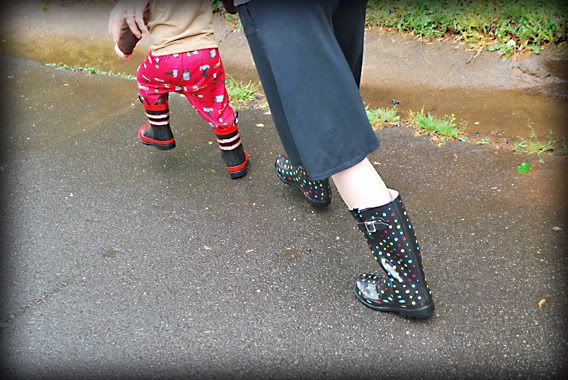 Little Man had LOTS of fun. He was so wet that we stripped on the front porch before going inside so we didn't get puddles inside!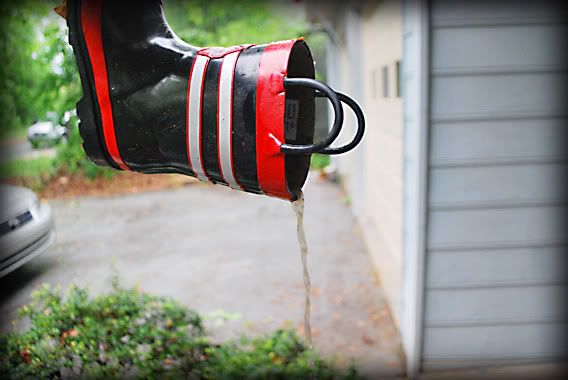 We came inside and took baths. I took this pic of my boys in almost matching jammies.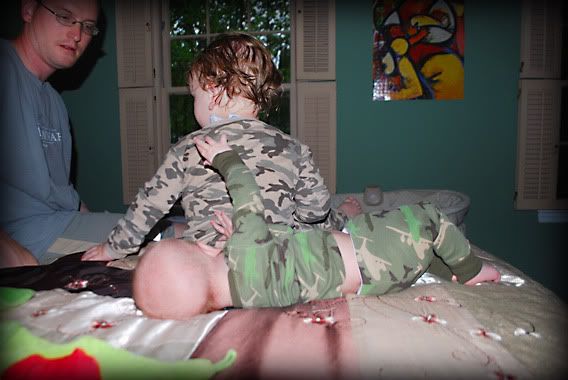 As we were taking down the fort, Little Man was crying and saying "my tent!!" He did not want to see it go. But, Mama likes a clean house. Maybe we will put it back up tomorrow.