I had a great Mother's Day this year. I am not all about gifts and presents, I enjoy just spending the day with my family. Last year we went to a bed and breakfast, then hiking. It was perfect!
This year, we went to the lake!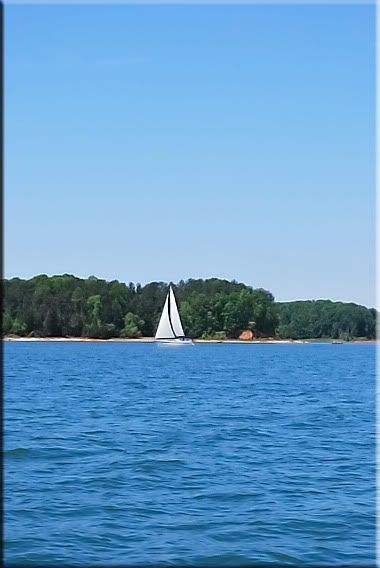 We loaded up the car and headed to the in-laws for a weekend on the lake. Saturday it was supposed to rain, and the whole day as we were getting the boat ready, my mother-in-law kept saying that we were crazy, and we were gonna get rained on. Well, as soon as we got the boat in the water, the skies cleared, and it turned into a beautiful day!
It took us a long time to get the boat ready. We hauled it to the launching dock, and took the cover off, only to discover mildew. The in-laws had not taken the boat out in 2 years, due to the drought we have been under, and the low lake levels. Then as we tried to test the battery (after hooking it to a meter and seeing it was fully charged). Guess what? The battery did not work! So we had to un-hook it, and take it to Sears, where they tried to charge it, and that did not work either. So they just bought a new battery. While we were at the mall that had the Sears, we grabbed lunch, and Little Man got his first spin on a carousel. He was not too sure about it once it started moving. He got a little scared!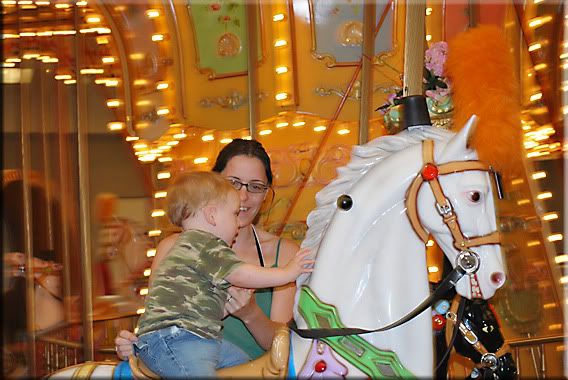 We finally got the boat in the water, and it would not start! It took almost half an hour of praying and trying before it finally started!
We drove around the lake for a while, then fished for a while too. Little Man enjoyed running around the boat, and trying to drive.
He had so much fun, he tuckered himself out, and passed out on the boat.
He kept falling over, and had a hard time standing back up due to his massive life jacket. (Call me a safety nerd, but whatever! My child was in a life jacket the whole time.... federal law ya know?)
Sunday we took the boat out to a marina to eat. Well, it was a restaurant in a hotel near a marina. Close enough. It took us almost an hour to get there, and then an hour to get back. It started raining on the way back, but nothing too bad. It was a bit chilly too.
We headed home Sunday night. I got a little too much sun, due to the clouds. I was only gonna go sun-screen less for about an hour, then put some on, but since I could not feel the sun burning on my skin, I forgot. Oh-well. Lessons learned.
I learned one more lesson too. I should always check the camera before handing it over to someone else to use. This is the picture my loving husband took of Little Man and I on Mother's Day. I wanted something for the scrapbook. I don't think this will work.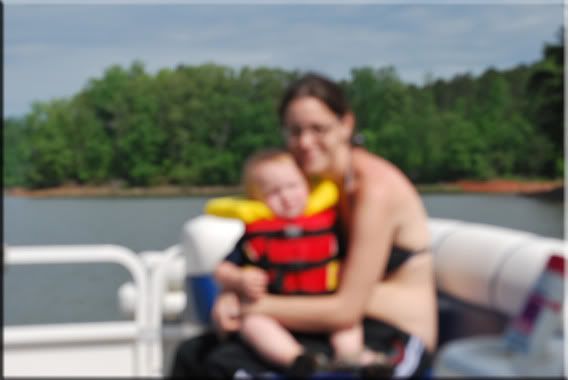 Yeah, it's called FOCUS honey....
I did get a present for Mother's Day. When we were at Target getting fishing rods, I saw a pair of rain boots for Little Man. I have been looking for rain boots for him for a while now. After I found his, I went and looked for some in my size. They had them!! I told my husband that I wanted those for Mother's Day!
Come on rain! I wanna puddle jump with Little Man.