We headed up to Atlanta again this week. We needed to get some work done on the house that we will be living in in a few weeks. We got baby gates installed, all the construction trash cleaned up, and gave the house a good cleaning. We are getting excited about moving now! My husband had his "interview" on Friday also. I say interview, but it was really only about 10 minutes of 5 different people shooting questions at him. He said it went well, and that we would hear something this week. The guy that offered him this job was the head of the interview, and it sounded like a done deal even before the interview.
On Tuesday night, we went out for some green beer to celebrate St. Patty's Day. I am not Irish that I know of, but I love my beer... So why not celebrate? Here is my hubby's "dark green" beer.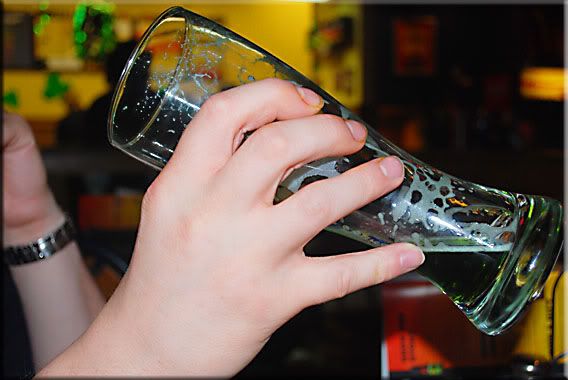 And my "light green" beer
While we were up in Atlanta, I decided it was time to get Little Man's hair cut.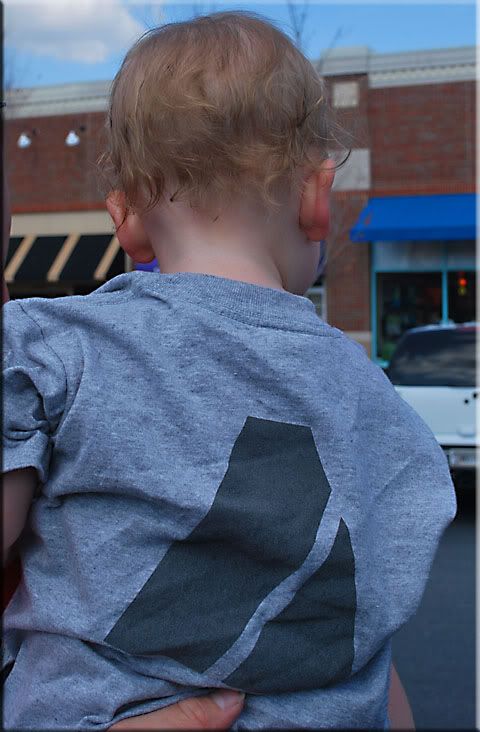 He is almost 18 months now, and he has never had a cut! He was born with semi-long hair, and it was to the point where it was curling now. So we looked online for a place that cuts children's hair. Being his first haircut, I wanted somewhere that would know how special it was. We found a place that only does children, and took him there.
This place was awesome! It had bright, colorful decor, and tons of toys to play with. When they heard it was his first haircut, they offered to take a picture for us. I declined, since I brought along my camera. They also offered to save the "curls" for me. I wanted this!!
So they take Little Man back, and put him on the chair. They put a "cars" smock on him. As the lady was about to get his hair wet with the spray bottle, he decided that he did not want the smock on. He does the same thing with bibs. Pulls them off. So, the smock went to the floor. At this time, he was starting to get curious.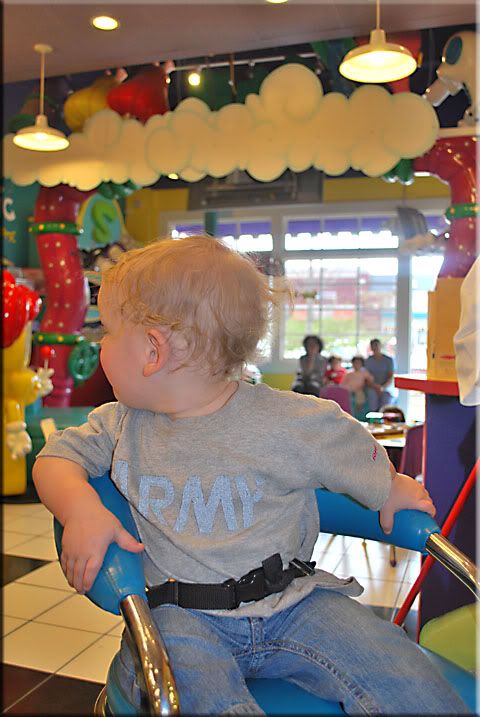 The lady wet his hair down, and showed me just how long his hair really was!
The lady then combed his hair down and started to cut! This is when the tears started... not from me, from Little Man. He started SCREAMING!! He has never had his hair brushed with a comb either, so I think that freaked him out. I found a sucker in my purse and gave that to him, which took away all the tears. Then the lady pulled out the whole bucket of suckers, and he played with that the rest of the time.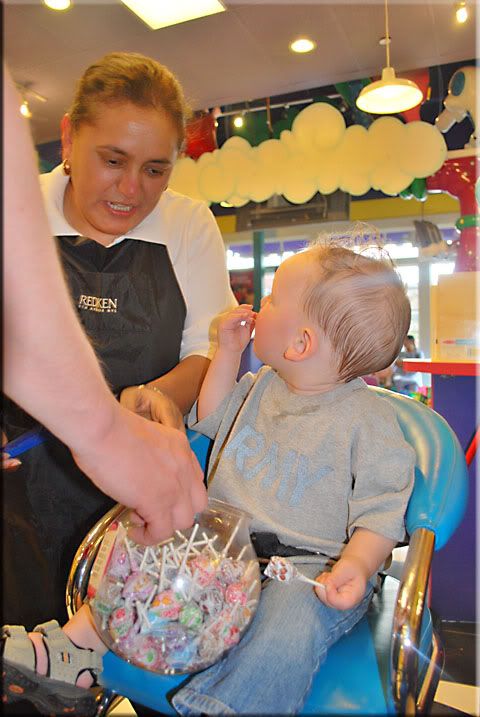 When he was done, we got a certificate that showed how brave he was, along with all his "curls". Those both will end up in the scrapbook.
He really looks like a Little Man now!