Hey Guys, Little Man here. I wanted to have a chance to type something! Don't tell Mommy I stole her laptop for a minute!
We went out tonight, and Mommy kept saying we were gonna pick up a slide. Well, I love slides, so I was excited! I couldn't understand what Mommy was talking about though, cause all the slides I have been on have been at the play ground.
We met some guy from Craigslist, Mommy said. They loaded this big, colorful thing into the back of our van, and Mommy said it was my slide. I kept pointing to it on the way home, cause I wanted to go on it!!
When we got home, Daddy set it up on the back porch for me. It was my bed time, but Mommy said I could play for a minute. I was not too sure about this thing, but once I figured it out... OH MAN!! It's GREAT!!
It's got a door! I like to open and shut the door!!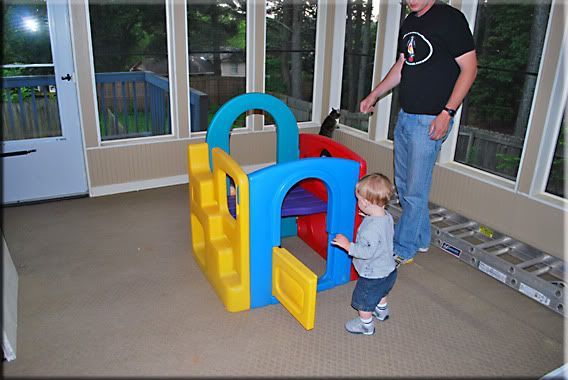 It's also got these... openings on the bottom sides that I fit thru!!
I like to kiss Mommy thru the openings! This is how I tell her "thanks" for the new toy!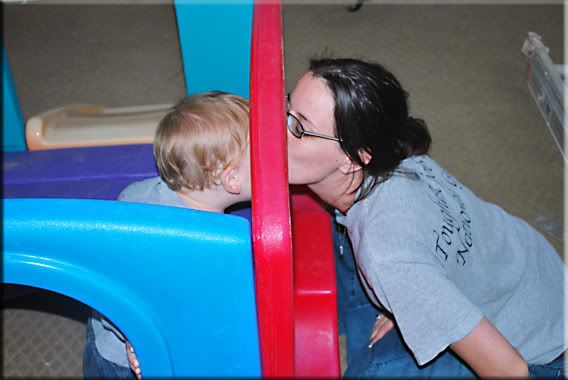 My favorite is the slide! I went down it, then Daddy taught me to climb back up it! Mommy said something about not letting me do that, something about I will try to do it at the park, but Daddy ignored her.
Well, it is past my bedtime, and Mommy says if I don't go to bed soon, that I wont get to play in the morning on my new toy.
Good night everyone!
Little Man