Little Man met a little girl the other day at the park. She was talking about a tea party she was going to go to that evening. Little Man was intrigued and asked if he could go to. Since this was a birthday tea party (and a complete stranger) I told him he could not.

He seemed to all but forget about it until today.

This morning Little Man asked me to have a tea party.

I immediately said "yes!" because I remembered the tea set that Stephens mom had passed down to us many years ago in hopes that we would have a girl and be able to use it. I got the set down from the storage closet, opened the box and carefully unwrapped each piece.

Little Man set out a blanket for us.




I made the tea (milk) and got us some crackers. Little Man also set out some toys on a near by table for us to play with after we had "tea".




We then sat down to have our tea party.




Little Man LOVED his tea party. He even pretended that his tea was hot. He had to blow on it to cool it down.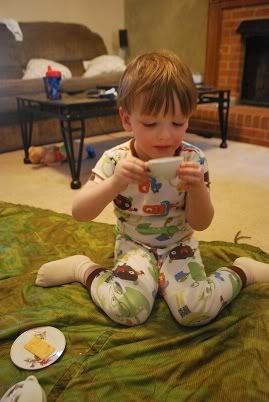 Little Miracle got in on the fun too.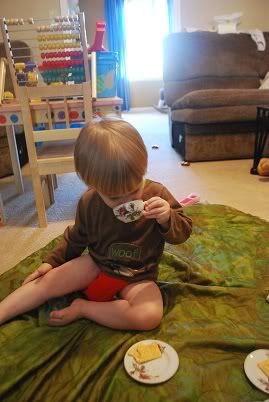 The boys loved the tea party. And why shouldn't they? Society has a way of saying that little boys should play with cars, and little girls should play with dolls. Those rules do not apply at my house. If Little Man or Little Miracle wants to play with dolls or other "girl toys", they are welcome to it. I'm sure Little Miss will fight the boys for the trains and cars one day too.

Tea parties are not the first thing that society considers "for girls" that he has asked to do.

One day last summer when I was painting my nails, he held his hand out to me and said "red is my favorite color" in a "paint my nails too" kind of tone. So, I did.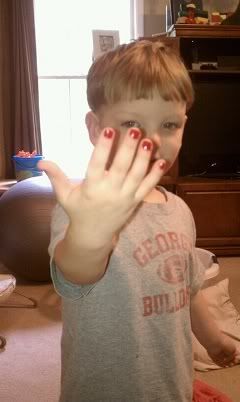 He also LOVES to play dress up at his cousins' house.




He also wanted to wear a hair bow on "crazy hair" night at AWANA.




Am I concerned that he likes all these "girly" things? No. He's a kid. And if he turns into a teenager that likes to have tea parties and paint his nails, I'm ok with that too.